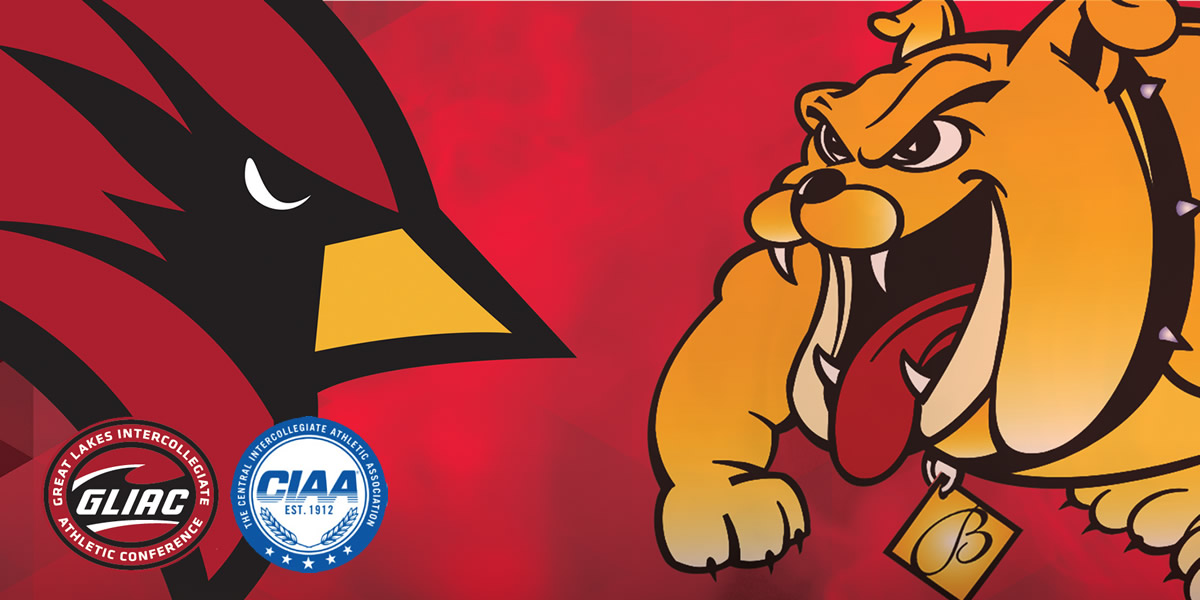 The Saginaw Valley Classic — an HBCU Experience 2022
Saginaw Valley State University Cardinals vs. Bowie State University Bulldogs
---
MAJOR SPONSORS
Saginaw Valley State University
Dow
Hemlock Semiconductor
Saginaw Community Foundation
Alpha Phi Alpha Fraternity, Inc. | Iota Chi Lambda Chapter
Anita & James Jenkins
SVSU Office of School & University Partnerships
Team One Credit Union
Jolt Credit Union
Mridha Debasish MD
Allen E. & Marie A. Nickless Memorial Foundation
Wickson-Link Memorial Foundation
Wildfire Credit Union
GENEROUS SUPPORT FROM
Liana & Donald Bachand
John & Sally Decker
Billy Dexter
Deborah & Al Huntley
Preston & Dr. Betty Jones
Odail & Mamie Thorns
CWhatWorks STEM Program
ADDITIONAL SUPPORT FROM
The Mu Alpha Omega Chapter of Alpha Kappa Alpha Sorority, Incorporated
---
THURSDAY, SEPTEMBER 8, 6 P.M.
Rhea Miller Recital Hall at SVSU
Film: "Tell Them We Are Rising: The Story of Historically Black Colleges and Universities"
---
Discussion: HBCUs & social justice
Panel Discussion Participants:
Howard University Alumnus Karen S. Carter, Dow's Chief HR Officer, and Chief Inclusion Officer.
Representing Saginaw is Arik Smith who is a graduate of North Carolina A&T State University. Arik works as a Capital Project Portfolio Planner at Hemlock Semiconductor. He is also the president of the Board of Education for Saginaw Township Community Schools.
Representing Bay City is Marcelle Smith who is a graduate of Florida A&M University. Marcelle is the pastor of Historic Second Baptist Church in Bay City.
Moderator: Dawn Hinton, Ph.D., Associate Vice President for Academic Affairs and Professor of Sociology at SVSU
Closing remarks: Tiffany Torain, JD, LLM - Inclusion, Diversity and Equity Relationship Manager; Dow
---
FRIDAY, SEPTEMBER 9, 7 P.M.
Malcolm Field Theatre at SVSU
Step Show Performance
Emcee: Yvonne Daniels, KissFM
Black National Anthem

Introduction of local performers

Presentation of the Divine Nine Black Greek Letter Organizations
School Roll Call: Dr. Pamela Pugh, Vice President, Michigan State Board of Education
Art Exhibit Overview: Kevin Jones, artist
Music by: DJ Eric Smith
---
SATURDAY, SEPTEMBER 10, 1 P.M.
Harvey Randall Wickes Memorial Stadium at SVSU
Halftime: The SVSU Cardinal Marching Band and Bowie State University's Symphony of Soul Marching Band will each perform.
---
Thursday, Friday and Saturday will also include the following events:
HBCU historical exhibit in SVSU's Zahnow Library; youth-focused, hands-on STEM activities; and tailgating activities. Sponsor information will also be available at various locations across campus.
Reflecting Black
This Great Lakes Bay Region exhibit runs through September 30 in the Zahnow Library.
Reflecting Black is a tribute to the educational and cultural institutions that have influenced the region's social, professional and political realities. Using photographs, time-specific clothing and other artifacts, the exhibit explores life on Historically Black Colleges and Universities, involvement in Black sororities and fraternities, and the socio-political activism of justice organizations in the region. These experiences helped facilitate migration to the area, cultivated the talents of justice leaders, unleashed excellence in the sciences and arts, and motivated communities to thrive on their own terms. Reflecting Black has been curated by local residents and tells their collective stories. It coincides with The Saginaw Valley Classic, which features the football match-up between Saginaw Valley State University and Bowie State University.
---