Saginaw Valley State University Offers Scholarship to FIRST Robotics Competitors
Saginaw Valley State University has established FIRST Robotics scholarships to recognize the achievements of FIRST Robotics Competition participants. This renewable scholarship will provide a $16,000 award ($4,000 per year) renewable for up to four years, for study at Saginaw Valley State University.
---
How to Apply to the SVSU FIRST Robotics Scholarship
Incoming freshman students must be applied and admitted to SVSU for the Fall term. Students must fill out the SVSU Private Scholarship Application to be considered. Students already submitted to SVSU can use this link to access the online private scholarship application.
Apply to SVSU Scholarship Application
The scholarship is renewable on an annual basis, for a total of eight semesters, providing the recipient maintains the following level of eligibility:
Is enrolled at SVSU and completes at least 24 credit hours between the Fall and Winter semesters, maintains a minimum cumulative 3.00 GPA, and successfully makes progress in their program requirements each academic year.
About Saginaw Valley State University
Saginaw Valley State University is a comprehensive university with more than 90 programs of study for its more than 9,000 students. Located on a suburban campus in Michigan's Great Lakes Bay Region, SVSU emphasizes undergraduate teaching and learning, and community-based research. SVSU has established itself as a leader in STEM education for the Great Lakes Bay Region, partnering with businesses, foundations and school districts to improve students' performance in math and science at the middle school, high school and university levels.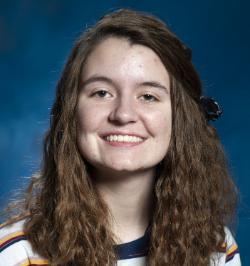 I was shocked to get this scholarship — it helped take the financial stress off.
— Brooke Oleson
St. Joseph High School FIRST Robotics Team
SVSU Elementary Education Major